Rating:
4.9
. Number of organizations:
893

Countries:
All
Operating system:
Windows, Android, macOS
Group of programs:
USU software
Purpose:
Business automation
accounting and duration of working time
Copyright protects the unique methods of business automation that are used in our programs.



Copyright

We are a verified software publisher. This is displayed in the operating system when running our programs and demo-versions.



Verified publisher

We work with organizations around the world from small businesses to large ones. Our company is included in the international register of companies and has an electronic trust mark.



Sign of trust
Quick transition.
What do you want to do now?
Program screenshot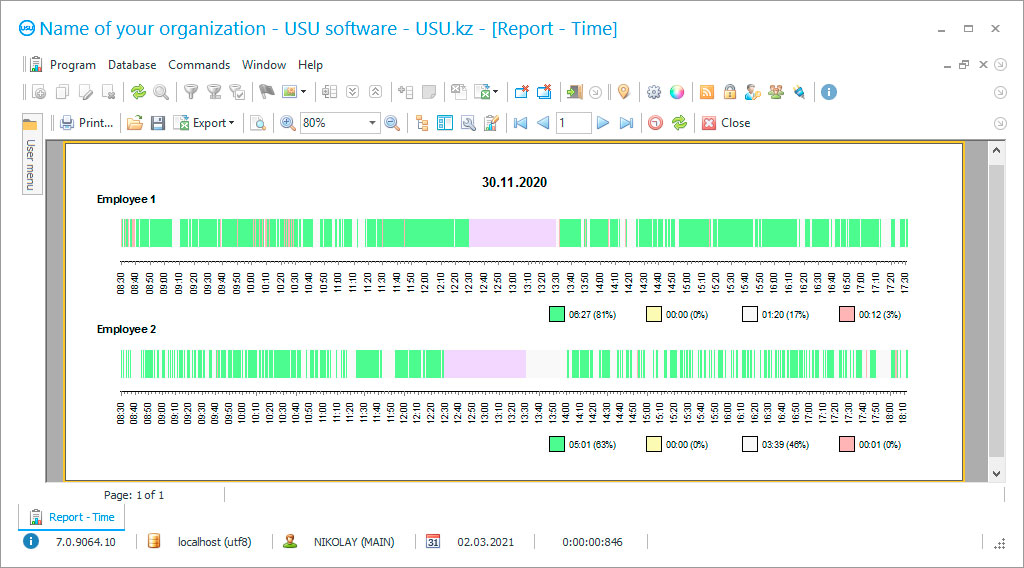 Video of accounting and duration of working time
This video can be viewed with subtitles in your own language.
Download demo version
When starting the program, you can select the language.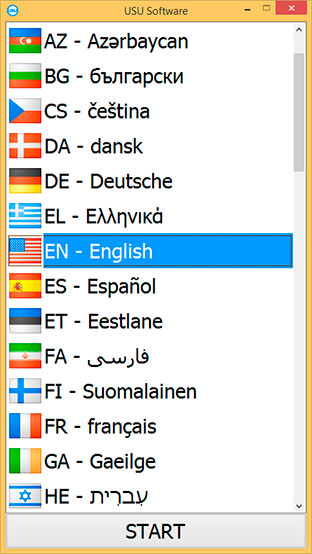 Order an accounting and duration of working time
There is such a business where accounting and working time duration of personnel is the main criterion for calculating wages, assessing efficiency, productivity. Hence, managers create a mechanism for fixing the beginning and end of a shift, filling out specialized forms, but when it comes to telecommuting, monitoring difficulties arise. There is both a certain standard to the duration of working time duties and overtime duration, which should be paid according to the employment contract at an increased rate. When a specialist performs tasks at a distance, from home or another object, it is impossible to check what he was doing all day and whether the tasks were performed well because modern technologies come to the rescue. With freeware accounting, all processes take place in electronic format, and some of them use the Internet, which expands the prospects of using freeware, using it in all areas of activity. We recommend that you pay attention to developments that can provide an integrated approach to automation so that the investment will pay off faster and the return is higher.
USU Software specialists have been creating software in various business areas according to many years, which gives an understanding of current needs. The developed platform of the USU Software system becomes the basis of creating a project, since it allows adjusting the content of the interface, forms a unique functionality that suits your company. You do not get a boxed solution that forces you to change the usual working time structure and rhythm, which means you will not have to waste time adapting to a new instrument. The program boasts a short training period to users, even if they first encounter such a solution. Our experts explain the basic principles, advantages, and options in just a couple of hours. Algorithms are set up immediately after the implementation stage, taking into account the nuances of activities, the needs of entrepreneurs and employees, which will allow you to perform tasks without deviating from the prescribed regulations, minimizing errors. Working time accounting is carried out automatically, according to the internal schedule or other parameters.
The capabilities of the freeware configuration of the USU Software are not limited to monitoring the duration of tasks, change of employee. It becomes a link to all users, providing up-to-date databases, contacts, documents. Each specialist receives an individual space performing their working time duties, where they can customize the comfortable order of the tabs and visual design. For proper accounting and the duration of working time, office and remote workers, and additionally installed tracking module is used on computers. At the same time, the head or head of the department receives ready-made statistics or a report, which reflects all information on the activities of the personnel, including the completed tasks, the working time hours spent on this. The accounting system tracks the duration of periods of activity and idleness, forming a visual, color-coded graph. To involve our development in accounting means to get a reliable assistant in all matters.
The ability to customize the application for customer requests makes it the best option according to automating a wide variety of processes.
We provide our customers with an opportunity to choose the functional content, which is implemented by changing the set of options in the interface. The laconic structure of the menu allows mastering the program in less time and not experience difficulties in daily operation. The briefing of personnel takes place in a remote format and requires literally a few hours, then a short stage of practical acquaintance begins.
The cost of the software is regulated by the selected functional content and can be supplemented as needed.
For each workflow, a specific algorithm of actions is configured, which will allow them to be completed on time and without complaints. The duration of the specialist shift is recorded and displayed in the electronic journal automatically, facilitating further actions of the accounting department. Calculation of wages, taxes, cost of services and goods be faster due to the use of electronic formulas of any complexity. Program accounting of the activities of remote workers is carried out on the basis of constant registration of actions, applied applications, documents. You do not need to constantly monitor staff monitors, you can simply open a screenshot for the required period, it is created every minute. The analytics and statistics displayed in the ready-made reports help assess the current progress in the implementation of the plan, and make changes if necessary.
Leaders, entrusting control to the USU Software program, be able to devote more efforts to such areas as expanding cooperation, finding partners, clients.
Only those who are registered in the database be able to use the application, entering a password and login for identification each time they enter. There is no way to rule out hardware problems, but a frequent backup helps you recover your data.
To implement the application, you need simple, serviceable computers, without special system parameters. Yes, you heard right, there is no need to install or buy anything except a computer. Accounting and duration of working time is a necessary and needful process. Using the USU Software accounting program you will always be sure of your employees and their working time duties.