Rating:
4.9
. Number of organizations:
680

Countries:
All
Operating system:
Windows, Android, macOS
Group of programs:
USU software
Purpose:
Business automation
Program for selling goods
Copyright protects the unique methods of business automation that are used in our programs.



Copyright

We are a verified software publisher. This is displayed in the operating system when running our programs and demo-versions.



Verified publisher

We work with organizations around the world from small businesses to large ones. Our company is included in the international register of companies and has an electronic trust mark.



Sign of trust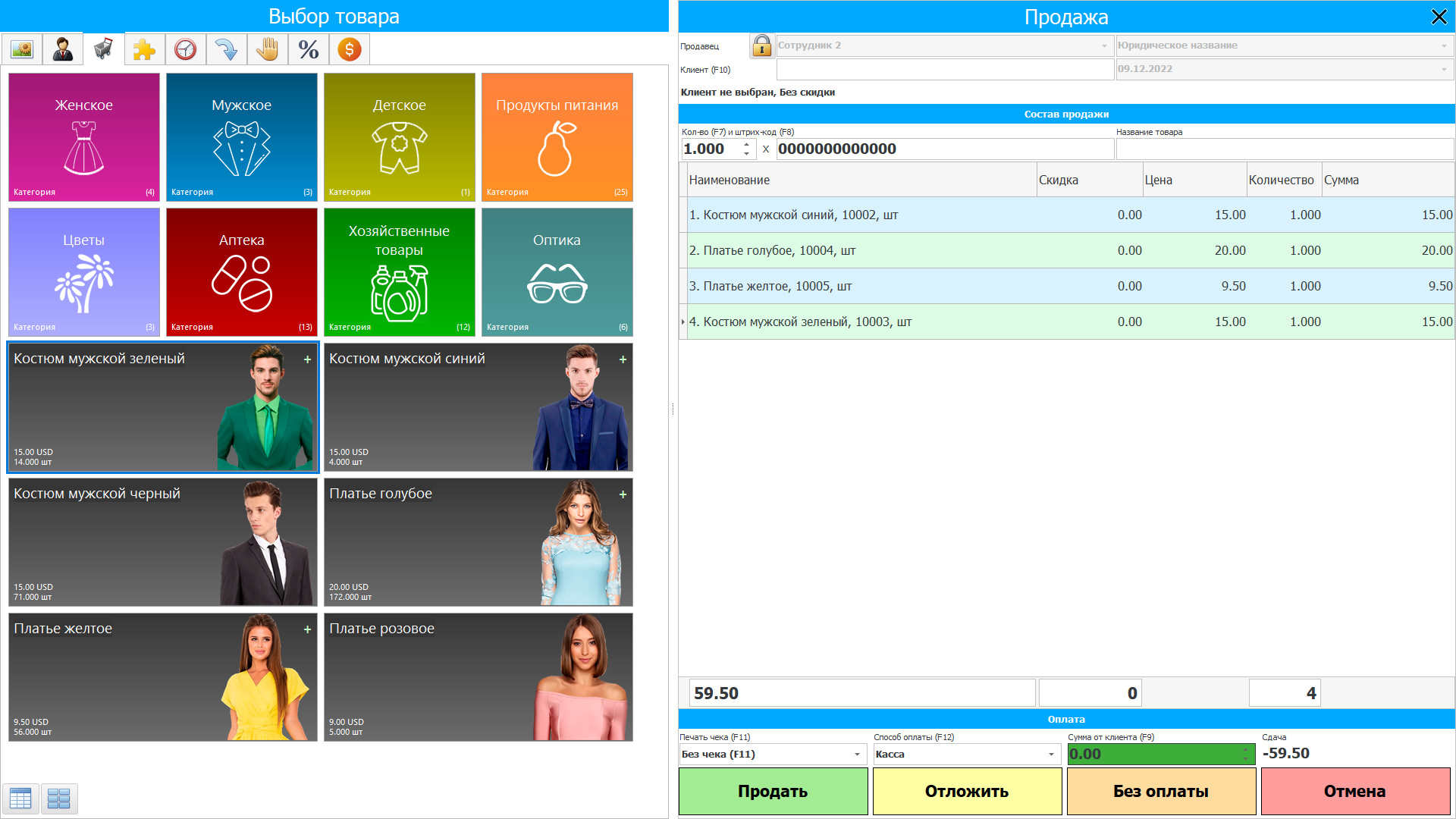 Download demo version
Instruction manual
When starting the program, you can select the language.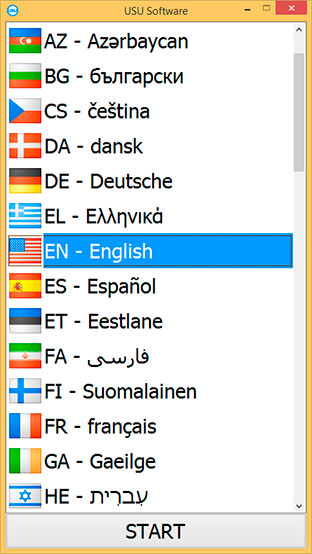 Premium-class program at an affordable price
1. Compare Configurations
Compare configurations of the program

2. Choose a currency
3. Calculate the cost of the program
4. If necessary, order a virtual server rental
In order for all your employees to work in the same database, you need a local network between computers (wired or Wi-Fi). But you can also order the installation of the program in the cloud if:
You have more than one user, but there is no local network between computers.



No local area network

Some employees are required to work from home.



Work from home

You have several branches.



There are branches

You want to be in control of your business even while on vacation.



Control from vacation

It is necessary to work in the program at any time of the day.



Work at any time

You want a powerful server without the big expense.



Powerful server
Calculate the cost of a virtual server

You pay only once for the program itself. And for the cloud payment is made every month.
5. Sign contract
Send the details of the organization or just your passport to conclude an agreement. The contract is your guarantee that you will get what you need. Contract
The signed contract will need to be sent to us as a scanned copy or as a photograph. We send the original contract only to those who need a paper version.
6. Pay with a card or other method
Your card may be in a currency that is no in the list. It's not a problem. You can calculate the cost of the program in US dollars and pay in your native currency at the current rate. To pay by card, use the website or mobile application of your bank.
Bank transfer



Bank transfer

Payment by card



Payment by card

Pay via PayPal



Pay via PayPal

International transfer Western Union or any other



Western Union
Automation from our organization is a complete investment for your business!
These prices are valid for the first purchase only
We use only advanced foreign technologies, and our prices are available to everyone
Compare configurations of the program
Popular choice

Economical
Standard
Professional
Main functions of the selected program Watch the video

All videos can be viewed with subtitles in your own language

Multi-user operation mode when purchasing more than one license Watch the video
Support for different languages Watch the video
Support of hardware: barcode scanners, receipt printers, label printers Watch the video
Using modern methods of mailing: Email, SMS, Viber, voice automatic dialing Watch the video
Ability to configure automatic filling of documents in Microsoft Word format Watch the video
Possibility to customize toast notifications Watch the video
Choosing a program design Watch the video
Ability to customize data import into tables Watch the video
Copying of the current row Watch the video
Filtering data in a table Watch the video
Support for grouping mode of rows Watch the video
Assigning images for more visual presentation of information Watch the video
Augmented reality for even more visibility Watch the video
Temporarily hiding certain columns by each user for himself Watch the video
Permanently hiding specific columns or tables for all users of a specific role Watch the video
Setting rights for roles to be able to add, edit and delete information Watch the video
Selecting fields to search for Watch the video
Configuring for different roles the availability of reports and actions Watch the video
Export data from tables or reports to various formats Watch the video
Possibility to use the Data Collection Terminal Watch the video
Possibility to customize a professional backup your database Watch the video
Audit of user actions Watch the video
Back to pricing

Rent of a virtual server. Price
When do you need a cloud server?
Rent of a virtual server is available both for buyers of "Universal Accounting System" as an additional option, and as a separate service. The price does not change. You can order a cloud server rental if:
You have more than one user, but there is no local network between computers.
Some employees are required to work from home.
You have several branches.
You want to be in control of your business even while on vacation.
It is necessary to work in the program at any time of the day.
You want a powerful server without the big expense.
If you are hardware savvy
If you are hardware savvy, then you can select the required specifications for the hardware. You will immediately be calculated the price for renting a virtual server of the specified configuration.
If you don't know anything about hardware
If you are not technically savvy, then just below:
In paragraph number 1, indicate the number of people who will work in your cloud server.
Next decide what is more important to you:

If it's more important to rent the cheapest cloud server, then don't change anything else. Scroll down this page, there you will see the calculated cost for renting a server in the cloud.
If the cost is very affordable for your organization, then you can improve performance. In step #4, change the server performance to high.
Hardware configuration
JavaScript is disabled, calculation is not possible, contact the developers for a price list
Order the program for selling goods
Selling in the store - a special type of activity associated with the sale of quite specific goods – pieces of assets (most often clothes, less often - shoes, accessories, etc.), remaining in stock. Accounting usually involves keeping all types of records with a large share of stock records and sales. The most reliable and easiest way to make the store program fully operational is a program for selling goods. Each program for selling goods is designed to organize the work of a trading company, accelerate the process of data processing and systematization, and normalize the workflow (in particular, the work of the sales department). Some managers, considering that they have found a cheaper way to purchase program for selling goods, decide to download the program for selling goods online by asking the search site query "program to sell goods free" or "programs to sell goods free download". It should be explained that this approach to the problem is completely wrong and can not only undermine your confidence in automated accounting programs, but also lead to the loss of information. The fact is that not every programmer will take care of the maintenance of a free program for selling to control the sale of goods (and if so, not without such a stimulus as money), and this need of technical support sooner or later will certainly appear. In other words, all experts recommend only the program for selling purchased from reliable developers.
The most reliable program of selling goods and storage control – the USU-Soft. This program for selling goods has many advantages over its analogues and is able to show the best results very quickly. It is characterized by high quality of execution, ease of use, pleasant budget cost and fair maintenance program. The developers of the USU-Soft have an international mark of confidence D-U-N-S, which confirms the recognition of this selling program of goods management throughout the world as one of the most high-quality products for selling goods. The selling program of goods management which helps you to facilitate the selling of goods allows you to use not only standard equipment in the store (store and warehouse equipment - barcode scanners, receipt printers, labels, etc.), but a completely new device, which not all stores have mastered yet - modern data collection terminals (DCT). This is a little compact device, which the employee simply carries in his pocket and use as needed. An example: to conduct an inventory, you use it and save a lot of time. The data is read out and then transferred to the main database. The device is capable of storing a certain amount of data, which is a significant plus. Thus, even there are too many items in the warehouses, you can add them all into the database and the storage capacity of the selling system of accounting is limitless.
Work with clients also deserves special attention. Information about clients can be entered directly at the cash desk. For example, you enter in the accounting system of selling and order management the name, surname, patronymic name of the client, as well as how old he or she is, if desired, his or her preferences and so on. Each client is awarded bonuses for each purchase. We think there is no point in explaining what the bonus system is, because all stores have long been using this strategy of attracting and retaining customers. Few people can resist the opportunity to use these accumulated bonuses instead of money and buy more goods in your store. You will see which purchases the customer buys and receives bonuses. Thus, you will understand what he or she prefers and thus you send out advertising and offer to buy something else, encouraging him or her to spend even more. Customers can also be divided into categories to make it easier to navigate through a huge database that has information about a large number of customers. The management of clients is what is necessary in any business organization.
This division can be based on different criteria: based on the number of visits (on regular and rare customers); based on the presence or absence of complaints (on those who never complain and those who do it all the time); based on certain purchases, on age, street of residence, etc. Some clients even deserve to be granted the VIP status and all privileges they need to be given. And to be always in touch with your customers, you can use 4 ways of communication - Viber, SMS, e-mail and even a voice call. You can send out advertisements, catalogs, special offers, discounts, or invite to events, congratulate on holidays, thank for making purchases, inform about new arrivals of goods and much more.
Do you want to avoid mistakes when working with products and sales? Do you want to shift some of the monotonous work to a machine which can handle it much better and faster? Do you want to optimize your business so much that your competitors will be far behind? Then feel free to choose our selling program of control and automation. We guarantee all this, and even more. We are used to pleasantly surprise our customers. On our official website you will find all the information you need, as well as be able to download a free demo version to install it at your company and check if everything we tell you is true or not. We can assure you that our unique system of automation and business modernization will not disappoint you and you will definitely want to continue using it! Contact us in any way you like. We are always in touch and will be happy to answer any questions you may have.