Rating:
4.9
. Number of organizations:
19

Countries:
All
Operating system:
Windows, Android, macOS
Group of programs:
USU Software
Purpose:
Business automation
Address mailing
Copyright protects the unique methods of business automation that are used in our programs.



Copyright

We are a verified software publisher. This is displayed in the operating system when running our programs and demo-versions.



Verified publisher

We work with organizations around the world from small businesses to large ones. Our company is included in the international register of companies and has an electronic trust mark.



Sign of trust
Quick transition.
What do you want to do now?
Program screenshot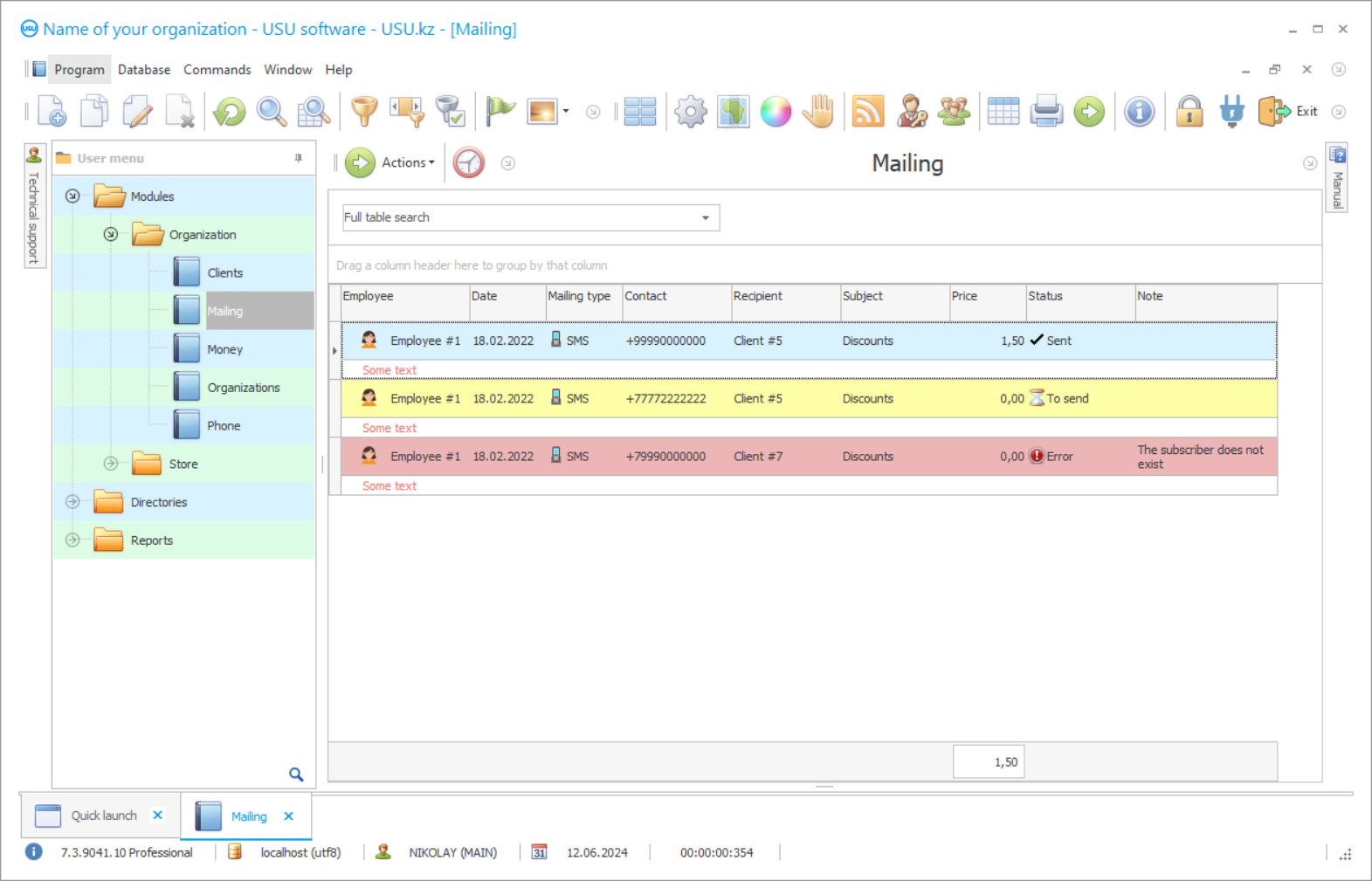 Direct mailing is a progressive tool for modern business. What is it for and what program is the best to use for direct mailing? More on this. Direct mailing is one of the components of direct marketing. Direct mailing is carried out to specific email addresses, tickets, catalogs, bonuses, discs, presentations, videos, postcards, newsletters, advertising information, presentations and other marketing products can be sent. Both legal entities and individuals can subscribe to the mailing list. Using targeted mailing, business entities and other participants inform the target audience by location, this is an important component, because the addressee receives the necessary information quickly and individually, without intermediaries. It is important to choose the right software for direct mailing. Targeted distribution can be massive and targeted. In case of mass distribution of any messages, general educational address distribution is carried out; in case of targeted distribution, the information concerns only the target audience. Mass distribution, as a rule, is chosen on a geographical basis; this approach is applicable, for example, when opening a new store, if the owner wants to convey to his potential consumers the opening date, assortment, and so on. Address mailing may be relevant for trade enterprises, manufacturing companies, for sports centers, dry cleaners, logistics companies, medical institutions, financial and travel companies, repair shops, training centers and any other organizations. Direct mailing is a way to maintain contact with your customers, as well as potential buyers and customers of services. It is very important to think over the mailing list so that by opening an e-mail the addressee can understand the essence of the sent message or letter, for which he was disturbed. In order to correctly carry out e-mail distribution, it is important to choose the right software, one of such products is a resource from the Universal Accounting System company. In the program, you can keep track of customers, with the introduction of the necessary contact information. In the USU you can set up automatic sending of SMS-messages, address distribution of electronic messages. With regard to direct mailing by e-mail, it can be carried out with attached files, forms, documents, and so on. The system can be configured for mass mailing. The program also provides the possibility of direct mailing via Viber, when integrated with telephony, voice calls can be made through the program, they can be made both automatically and individually, pointwise. The application makes it possible to generate different types of notification templates and so on. The program is very easy to work with, it is not burdened with unnecessary functionality. We select any additional functions to order. You can carry out a quick start by importing information from electronic media, or you can enter it manually. Fast data export is also available. On our website you can find a trial version of the product, which we will provide you for free for a certain period. "Universal accounting system" - targeted mailing and many other opportunities for your business in one software.
The program for calling clients can call on behalf of your company, transmitting the necessary message for the client in voice mode.
The mailing program allows you to attach various files and documents in an attachment, which are generated automatically by the program.
When sending bulk SMS, the program for sending SMS pre-calculates the total cost of sending messages and compares it with the balance on the account.
The program for sending announcements will help to keep your clients always up to date with the latest news!
The email newsletter program is available to be sent to customers all over the world.
To notify customers about discounts, report debts, send out important announcements or invitations, you will definitely need a program for letters!
You can download the program for mailing in the form of a demo version to test the functionality from the website of Universal Accounting System.
The program for outgoing calls can be changed according to the individual wishes of the customer by the developers of our company.
Mailing and accounting of letters is carried out through the mailing of e-mail for clients.
The program for SMS messaging generates templates, on the basis of which you can send messages.
Video of address mailing
SMS software is an irreplaceable assistant for your business and interaction with clients!
The program for mass mailing will eliminate the need to form identical messages to each client separately.
The free program for mailing to e-mail sends messages to any e-mail addresses that you choose for mailing from the program.
A program for sending SMS will help you send a message to a specific person, or make a mass mailing to several recipients.
The program for sending letters to phone numbers is executed from an individual record on the sms server.
The program for SMS over the Internet allows you to analyze the delivery of messages.
A free SMS messaging program is available in test mode, the purchase of the program itself does not include the presence of monthly subscription fees and is paid for once.
Viber mailing software allows mailing in a convenient language if it is necessary to interact with foreign clients.
The automated messaging program consolidates the work of all employees in a single program database, which increases the productivity of the organization.
A free program for email distribution in the trial mode will help you see the program's capabilities and familiarize yourself with the interface.
The viber messaging program allows you to form a single customer base with the ability to send messages to the Viber messenger.
Download demo version
When starting the program, you can select the language.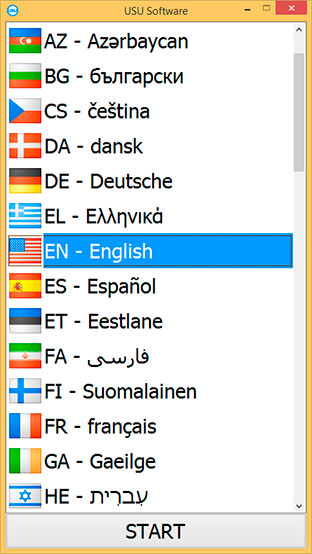 Instruction manual
The program for sending SMS from a computer analyzes the status of each sent message, determining whether it was delivered or not.
The free dialer is available as a demo version for two weeks.
The program "Universal accounting system" can be fully adapted for direct mailing.
The software makes it possible to form an information base for clients and for any other subjects with whom you need to maintain interaction.
In the system, you can set up sending SMS messages, it can be carried out individually and in bulk.
The application can be programmed to send mass mailings on specific dates or times, with pre-selected templates or attachments.
Through the software, you can carry out mass address e-mail distribution.
Any files can be attached to address messages.
Through the USU, you can carry out modern direct mailing on Viber.
If your company provides integration with telephony, you will be able to make voice calls. The application will call an organization or individual on your behalf and provide important information.
In the program, you can create various templates for notifications or text messages.
Order an address mailing
Address mailing
Templates can be saved and used in future activities.
All information in the program is consolidated and stored in history.
The USU is distinguished by a beautiful design, a simple and understandable workspace, a capacity of functionality, modern approaches to accounting and business management.
A lightweight program will not force you to spend a lot of time mastering the principles of software.
You can start your activity in the software quickly by importing data from electronic media, or you can enter data manually.
In the program, you can differentiate access for different employees.
The system has other features, which you can learn more about on our website.
You can work in the program in any language convenient for you.
USU is a fully licensed product.
"Universal accounting system" - convenient work with targeted mailing and other tools for business management.