Rating:
4.9
. Number of organizations:
454

Countries:
All
Operating system:
Windows, Android, macOS
Group of programs:
USU Software
Purpose:
Business automation
Accounting automation of the sewing studio
Copyright protects the unique methods of business automation that are used in our programs.



Copyright

We are a verified software publisher. This is displayed in the operating system when running our programs and demo-versions.



Verified publisher

We work with organizations around the world from small businesses to large ones. Our company is included in the international register of companies and has an electronic trust mark.



Sign of trust
Quick transition.
What do you want to do now?
Program screenshot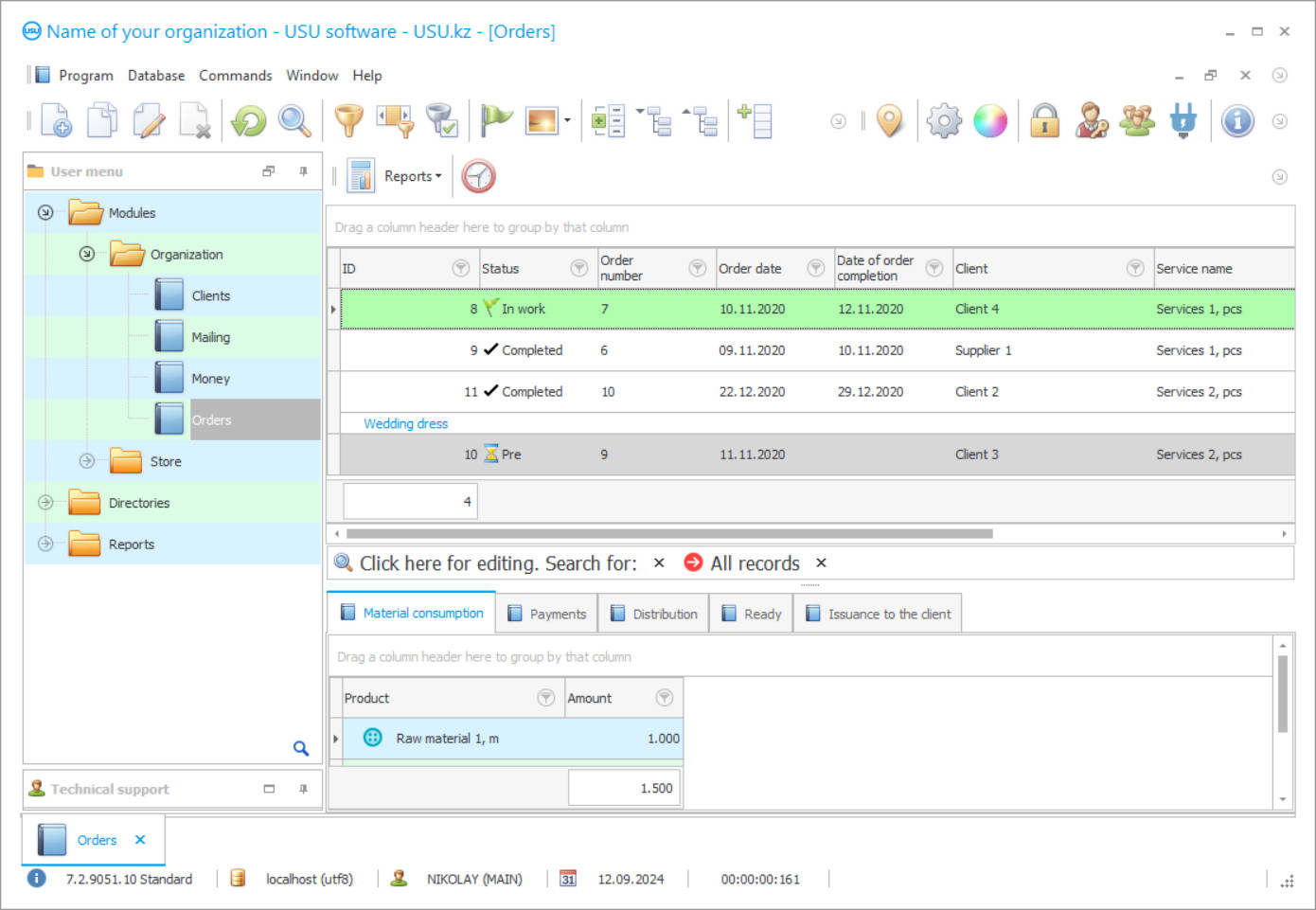 Organization of a sewing studio is a complex process, since reliable, complete and prompt production accounting is a necessary part of the entire organizational process from launch to production. A sewing studio is a specific business which requires a significant expenditure of resources: financial, labor and material, and also requires careful planning and clear organization. It is important to understand that the accounting automation of a sewing studio should begin with thorough preparation and in-depth study of the specifics of this business. The sewing studio provides endless opportunities for creativity and stable income. To withstand the competition, you need to be able not only to find equipment and personnel, but also to be creative in creating products. And so that nothing completely distracts you from creativity and at the same time everything is taken into account and nothing is left out, our software, developed for the work of a sewing studio, is created.
Setting up production accounting requires professionalism, because to do this it is necessary: to ensure order in the studio, develop requirements and track the primary document flow, on the basis of which financial and material reports are formed, an analysis of indicators is carried out, where all this is taken into account in the form of accounting organization - the USU-Soft automation program of the sewing studio. When organizing sewing studios and making products, even experienced technologists and economists do not always manage to foresee all production factors; however, when carrying out accounting automation of the sewing studio and using the USU-Soft, all emerging factors may be foreseen. In organizing the work of a sewing studio, it is very important to ensure the rhythmic work of all departments, their unified loading and automation program execution, which is also provided in our application.
Video of accounting automation of the sewing studio
This video can be viewed with subtitles in your own language.
Using the USU-Soft accounting system, you may easily control all the processes of sewing production, from planning to making a profit on the basis of a completed order. Also, with the help of the program of accounting automation of the sewing studio, you can see the work of each employee and, accordingly, increase the production of your workshop, you are able to motivate the distinguished employees with an award, and as you know, motivation is the engine of progress. And to control such a volumetric part of the costs as the material one, since the workshop has a large list of raw materials (fabrics, accessories), the consumption of which affects the cost of each product and, accordingly, the profit. And the program of accounting automation of the sewing studio will notify you that the warehouse is running out of materials, thanks to which your atelier will function smoothly and without the absence of downtime. Customer orders will be made without delay, which you and your customers will be happy about.
In the automation program of organizing the accounting of the studio, you can maintain a customer database, which allows you to see which customer has made more orders. Based on the data obtained, you may provide them with a flexible system of discounts or reward such regular customers with gifts, As you know, everyone loves them and these customers will always be with you, which in turn attracts new customers. Automation of sewing production based on the platform of the USU-Soft system allows you to quickly provide the information necessary to make management decisions.
Download demo version
When starting the program, you can select the language.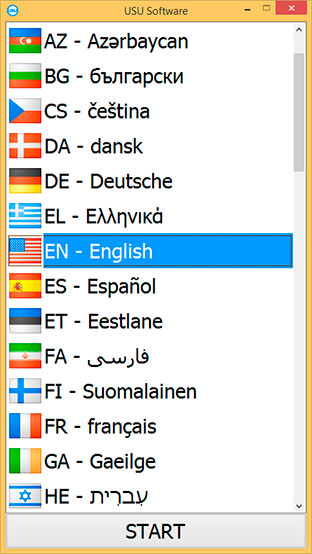 When we are talking about automation of the sewing studio, it is important not to forget about the necessity to make the process of control as transparent as possible. With our accounting program of automation you can be aware of every action done by your employees, as each of them is given a password and login to enter their own account. Thus, the accounting program of automation saves and later reflects and analyzes every step that was made by an employee. This is useful for several reasons. First of all, you know what amount of work is performed by a staff member and can calculate fair salaries. Secondly, you know who work in the best way to be able to reward hard-working employees and thus boost their effectiveness. Thirdly, you also know who is not that productive and who is not able to perform his or her daily tasks on time. This is also very important, as you are aware with whom you need to talk to improve the situation.
The system prepares a rating of the most hard-working and least hard-working staff members and presents this statistics in the form of convenient graphs, so that you don't have to spend a lot of time trying to understand what the report says. This principle is implemented in all aspects of the accounting program of automation – it is simple, fast and contributes to the growth of your organization. There are a lot of organizations who decided to install our accounting program of automation and never regretted doing so! They send us their feedback, which we posted on our official website. So, you can check for yourself that our system is valued and appreciated by other successful businesses all around the world.
Order accounting automation of the sewing studio
Accounting automation of the sewing studio
There are a lot of applications that are offered free of charge on the Internet. Be careful when deciding to use one of them, as it is sure to be an accounting automation program of low quality, with no technical support. Don't be surprised to know that it is now free in the end, as such systems are usually expensive after the use of its free demo version. We are honest with you – we offer to use our free demo version and then buy the full version, for which you only need to pay once.