Rating:
4.9
. Number of organizations:
443

Countries:
All
Operating system:
Windows, Android, macOS
Group of programs:
USU Software
Purpose:
Business automation
Accounting for an organization of delivery
Copyright protects the unique methods of business automation that are used in our programs.



Copyright

We are a verified software publisher. This is displayed in the operating system when running our programs and demo-versions.



Verified publisher

We work with organizations around the world from small businesses to large ones. Our company is included in the international register of companies and has an electronic trust mark.



Sign of trust
Quick transition.
What do you want to do now?
Program screenshot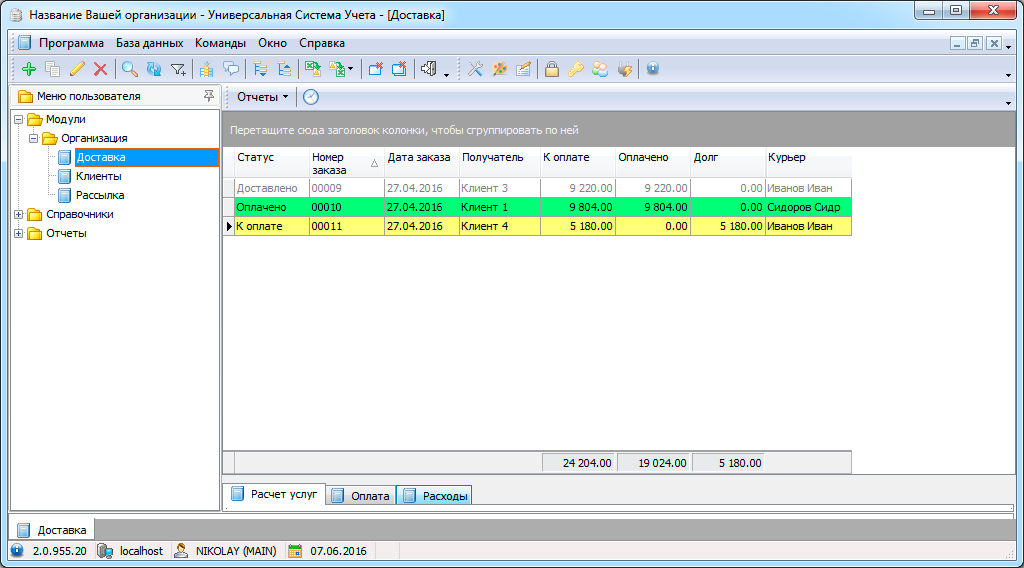 The development of information development in the modern world does not stand still. Every year, the latest technology emerges to help organizations conduct business. Thanks to the automation of business processes, all indicators are optimized. Accounting for the organization of delivery is carried out using a special program.
"Universal accounting system" assumes use in any enterprise, regardless of the size of production facilities and profile of work. Delivery management services are kept continuously in chronological order. Each transaction is generated in real time. The responsible person is established and a serial number is assigned.
In accounting for the delivery of courier organizations, it is necessary to pay great attention to the method of transporting goods. The presence of your own vehicle in the company requires careful control. It is necessary to carry out measures to maintain the technical condition, as well as, if necessary, repair work.
Delivery service is a very responsible process. It is necessary to preserve the commercial properties and control the content throughout the entire journey. The correct packaging of the goods plays an important role, so you need to provide additional information when concluding a contract. Using templates of standard documents, the process of filling out the documentation takes minimal time. Even a novice specialist in the services of organizing the delivery of goods can cope with such a task.
The Universal Accounting System program has many different sections that a company can choose for its activities. Delivery services are constantly being improved. The quality is growing and, accordingly, the demand is growing, so the introduction of modern configurations is simply necessary.
All organizations strive to maximize their profits. After each reporting period, they analyze the state of financial indicators that help make management decisions. At the meeting, strategic goals and tactical tasks are discussed. If necessary, changes are recorded in the accounting policy.
The accounting of services for the organization of delivery is switched to an automated mode in order to avoid possible disruptions in the work of employees. Optimization of processes using a specialized program allows you to monitor each operation, as well as provide a report for any selected period. Thanks to the sorting and selection function, you can make a request by criteria and highlight, for example, a warehouse or a customer.
"Universal accounting system" contains the most relevant structure, which involves the full conduct of economic activities. Built-in electronic assistant and technical support will help if you have any questions. Special graphs, classifiers and reference books allow you to create typical operations in a convenient format. The developers have made sure that the work in the program is convenient and enjoyable during use.
The program for the delivery of goods allows you to quickly monitor the execution of orders both within the courier service and in logistics between cities.
The delivery program allows you to keep track of the fulfillment of orders, as well as track the overall financial indicators for the whole company.
The courier service software allows you to easily cope with a wide range of tasks and process a lot of information on orders.
Full accounting of the courier service without problems and hassle will be provided by software from the USU company with great functionality and many additional features.
With the operational accounting for orders and general accounting in the delivery company, the delivery program will help.
Competently executed delivery automation allows you to optimize the work of couriers, saving resources and money.
Video of accounting for an organization of delivery
Automation of a courier service, including for small businesses, can bring considerable profits by optimizing delivery processes and reducing costs.
Accounting for delivery using the USU program will allow you to quickly track the fulfillment of orders and optimally build a courier route.
If a company requires accounting for delivery services, then the best solution may be software from the USU, which has advanced functionality and broad reporting.
Keep track of the delivery of goods using a professional solution from the USU, which has wide functionality and reporting.
The courier program will allow you to optimize delivery routes and save travel time, thereby increasing profits.
Use in any branch of the economy.
Implementation in large and small organizations.
High performance.
Login to the system is carried out using a username and password.
Unlimited creation of warehouses, divisions, departments and services.
Creation of a backup copy of the information system to the server.
Actual reference books and classifiers.
Timely database update.
Drawing up plans and schedules for the short and long term.
Download demo version
Exchange of information with the company's website.
Consolidation.
Preparation of accounting and tax reporting.
Personnel and wages accounting.
Taking inventory.
Comparison of planned and actual indicators based on the results of management.
Various reports, books and magazines.
Distribution of vehicles according to their characteristics.
Drawing up cost estimates and budget estimates.
Determination of workload.
Analysis of supply and demand for services.
Calculation of the cost of services.
Payment using payment terminals.
Accounting for the delivery of goods.
Order an accounting for an organization of delivery
Accounting for an organization of delivery
Identification of late payments.
Tracking transactions in real time.
Data output to the big screen.
SMS distribution and letters to e-mail.
Identification and correction of marriage.
Assessment of the quality of the services provided.
Built-in electronic assistant.
Templates of standard forms of various documents with the logo and company details.
Unified base of suppliers and customers.
Accounting for repair work and inspections, if there is a special unit.
Full automation of activities.
Optimization of business processes.
Reconciliation statements.
Bank statement control.
Bright design.
Modern user-friendly interface.