Rating:
4.9
. Number of organizations:
762

Countries:
All
Operating system:
Windows, Android, macOS
Group of programs:
USU software
Purpose:
Business automation
accounting for birds
Copyright protects the unique methods of business automation that are used in our programs.



Copyright

We are a verified software publisher. This is displayed in the operating system when running our programs and demo-versions.



Verified publisher

We work with organizations around the world from small businesses to large ones. Our company is included in the international register of companies and has an electronic trust mark.



Sign of trust
Quick transition.
What do you want to do now?
Program screenshot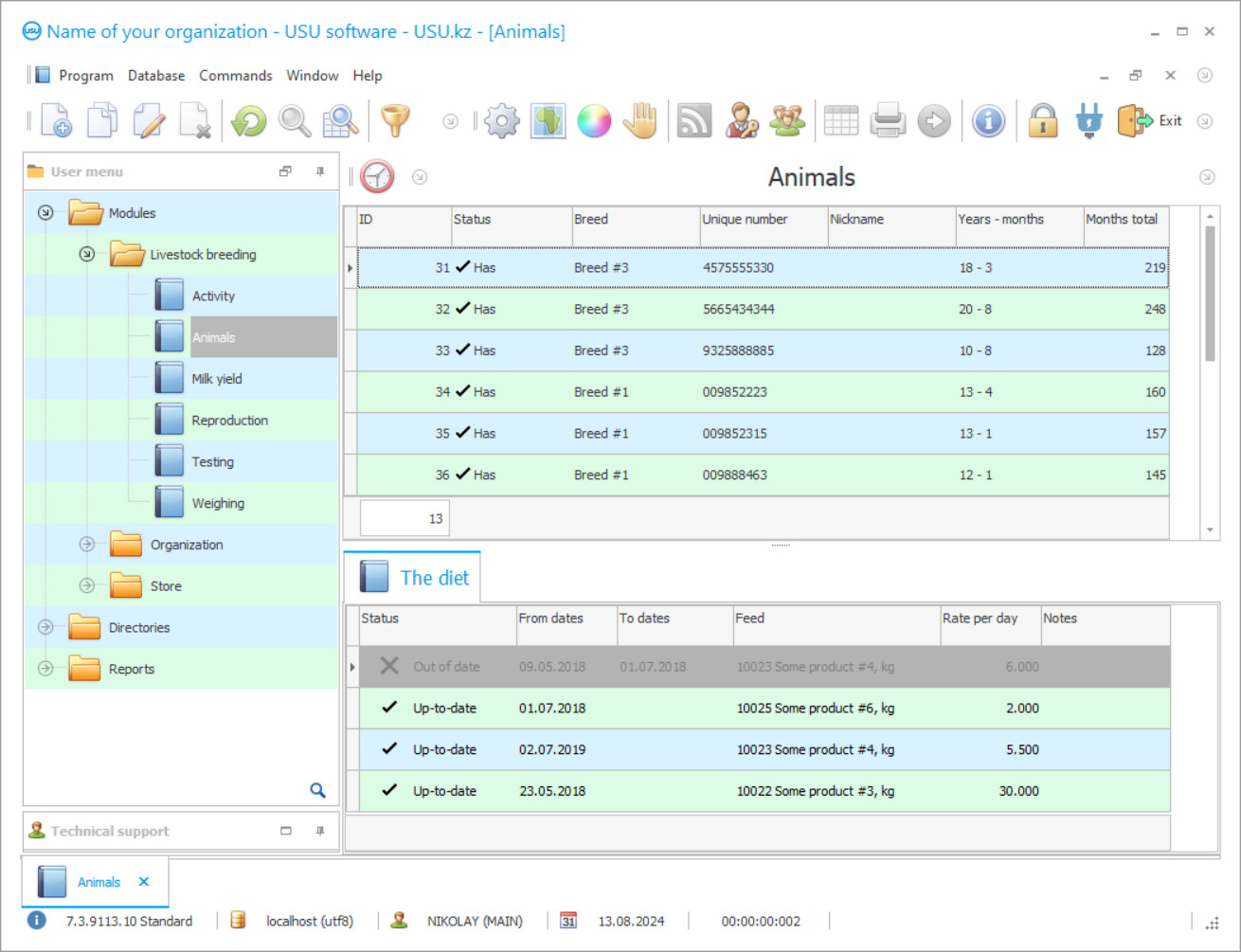 Download demo version
When starting the program, you can select the language.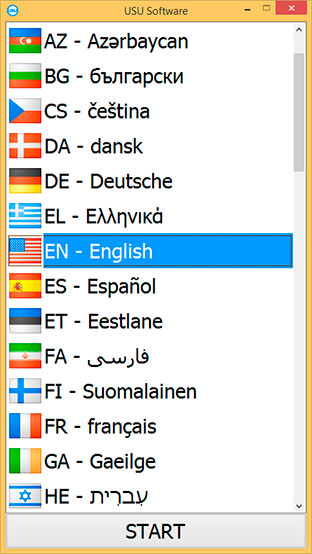 Premium-class program at an affordable price
1. Compare Configurations
Compare configurations of the program

2. Choose a currency
3. Calculate the cost of the program
4. If necessary, order a virtual server rental
In order for all your employees to work in the same database, you need a local network between computers (wired or Wi-Fi). But you can also order the installation of the program in the cloud if:
You have more than one user, but there is no local network between computers.



No local area network

Some employees are required to work from home.



Work from home

You have several branches.



There are branches

You want to be in control of your business even while on vacation.



Control from vacation

It is necessary to work in the program at any time of the day.



Work at any time

You want a powerful server without the big expense.



Powerful server
Calculate the cost of a virtual server

You pay only once for the program itself. And for the cloud payment is made every month.
5. Sign contract
Send the details of the organization or just your passport to conclude an agreement. The contract is your guarantee that you will get what you need. Contract
The signed contract will need to be sent to us as a scanned copy or as a photograph. We send the original contract only to those who need a paper version.
6. Pay with a card or other method
Your card may be in a currency that is no in the list. It's not a problem. You can calculate the cost of the program in US dollars and pay in your native currency at the current rate. To pay by card, use the website or mobile application of your bank.
Bank transfer



Bank transfer

Payment by card



Payment by card

Pay via PayPal



Pay via PayPal

International transfer Western Union or any other



Western Union
Automation from our organization is a complete investment for your business!
These prices are valid for the first purchase only
We use only advanced foreign technologies, and our prices are available to everyone
Compare configurations of the program
Popular choice

Economical
Standard
Professional
Main functions of the selected program Watch the video

All videos can be viewed with subtitles in your own language

Multi-user operation mode when purchasing more than one license Watch the video
Support for different languages Watch the video
Support of hardware: barcode scanners, receipt printers, label printers Watch the video
Using modern methods of mailing: Email, SMS, Viber, voice automatic dialing Watch the video
Ability to configure automatic filling of documents in Microsoft Word format Watch the video
Possibility to customize toast notifications Watch the video
Choosing a program design Watch the video
Ability to customize data import into tables Watch the video
Copying of the current row Watch the video
Filtering data in a table Watch the video
Support for grouping mode of rows Watch the video
Assigning images for more visual presentation of information Watch the video
Augmented reality for even more visibility Watch the video
Temporarily hiding certain columns by each user for himself Watch the video
Permanently hiding specific columns or tables for all users of a specific role Watch the video
Setting rights for roles to be able to add, edit and delete information Watch the video
Selecting fields to search for Watch the video
Configuring for different roles the availability of reports and actions Watch the video
Export data from tables or reports to various formats Watch the video
Possibility to use the Data Collection Terminal Watch the video
Possibility to customize a professional backup your database Watch the video
Audit of user actions Watch the video
Back to pricing

Rent of a virtual server. Price
When do you need a cloud server?
Rent of a virtual server is available both for buyers of "Universal Accounting System" as an additional option, and as a separate service. The price does not change. You can order a cloud server rental if:
You have more than one user, but there is no local network between computers.
Some employees are required to work from home.
You have several branches.
You want to be in control of your business even while on vacation.
It is necessary to work in the program at any time of the day.
You want a powerful server without the big expense.
If you are hardware savvy
If you are hardware savvy, then you can select the required specifications for the hardware. You will immediately be calculated the price for renting a virtual server of the specified configuration.
If you don't know anything about hardware
If you are not technically savvy, then just below:
In paragraph number 1, indicate the number of people who will work in your cloud server.
Next decide what is more important to you:

If it's more important to rent the cheapest cloud server, then don't change anything else. Scroll down this page, there you will see the calculated cost for renting a server in the cloud.
If the cost is very affordable for your organization, then you can improve performance. In step #4, change the server performance to high.
Hardware configuration
JavaScript is disabled, calculation is not possible, contact the developers for a price list
Order an accounting for birds
Every modern bird farm must, without fail, keep a record of its birds, which, first of all, affects accounting, because in this way it'll be much easier to draw conclusions about the profitability of the company as a whole. Birds accounting can be organized in many ways, various organizations still use paper accounting journals as the basis for accounting calculations, in which the birds' farm employees manually register all the necessary information and maintain special tables. However, another way of organizing control can be chosen, in which in the work of a person they'll replace software for automation. It allows you to perform all the same everyday functions many times faster and better.
To begin with, bird accounting implies the control of many production operations, which must be recorded timely, and the information received must be processed quickly. A person who is always dependent on external circumstances and extraneous factors, such as workload, cannot provide a guaranteed and stable quality of accounting. Due to its dependence, the information that is entered into the spreadsheets for accounting for birds may be distorted, entered untimely, or the employee may be completely distracted and not enter the necessary data. By using a computer application, you minimize all these risks, since the artificial intelligence of the software works without interruptions and errors, regardless of the factors listed above.
With this approach to business, you are guaranteed a clean and transparent accounting of birds, their keeping, feeding, and production. It is also worth noting that the use of a computer program for the management of birds' activities helps to completely transfer accounting into a digital plane, which occurs due to the computer equipment of workplaces, which is inevitable during automation. In addition to computers, the workers of the birds' farm should be able to use devices of a different nature synchronized with software in production. For the most part in the industry, they are used for controlling warehouses where birds feed and birds products are stored. The implementation of digital accounting has its advantages, upon a detailed study of which it becomes clear that such an approach to management is the only correct one. Digital data can be stored in the database of the system installation for a long time while remaining easily accessible for staff members, so in the event of any disputable situation, you can easily solve it with an extensive evidence base. In addition, storing information in an automated application for birds accounting allows them to ensure safety and confidentiality, because not only do most modern software have a multi-stage protection system, but you can also configure access to them for each user separately. If you have already decided to transfer your business to automated control, then the next step for you'll be the selection of the optimal software, of which there are a great many at the moment.
An excellent version of a computer application for automating any kind of activity is a unique product from well-known developers with many years of experience, the USU Software development company. It is called USU Software and has existed in the technology market for over 8 years. The application is great for both bird counting and control of other aspects of production activities on a bird's farm. With its help, you can easily control personnel, calculation and calculation of wages, financial movements, the storage, and storage system of feed, as well as various products, develop the CRM direction, and much more. Additionally, the configuration of the USU Software for bird accounting is not the only feature of it, because manufacturers represent more than twenty various program configurations of them, developed specifically for automated management of various business sectors. Officially licensed computer software is very easy to use and install. It can be done while sitting in the office, without the need to go anywhere, because our programmers work remotely and can configure the software even at a distance, for which you just need to provide access to your computer and provide an Internet connection. This gives USU Software's specialists a great advantage because in this way they can cooperate with various companies around the world without any obstacles. The accessible design of the program's interface allows you to start working in it without any preparation or training, so an employee with any qualifications can use the USU Software. Amazingly, even the menu of this multitasking program consists of only three sections, such as 'Reports', 'Modules and References. In each of them, several more subsections have been presented that help to conduct accounting activities in more detail. All ongoing operations necessary for the implementation of birds accounting are recorded in the Modules section, where there is control over each name or subject in the form of creating special electronic records or tables. By itself, this section can be presented as multi-functional accounting spreadsheets for birds accounting, the parameters of which are adjusted to the needs of each user. They can enter any information on all ongoing production operations, tracking the status of current affairs. In order for the accounting to really be kept automatically, before starting work in the USU Software, it is necessary to devote time to fill out the 'References' section, which essentially forms the nominal structure of the enterprise itself. Here you can add developed templates for your internal documentation; lists of employees, birds, feed, medicines; employee shift schedules; bird feeding schedules and various veterinary activities, etc.
Equally, important in the software installation for birds accounting is the Modules section, which is responsible for analytical functions in production activities. Thanks to its functionality, you can quickly and efficiently, and most importantly, analyze in detail any aspect you are interested in, compile statistics based on the analysis and display it for clarity in the desired form, such as spreadsheets, charts, graphs, diagrams. Also in this block, it becomes possible to automatically generate and prepare financial and accounting statements, which plays a key role in accounting. Not only can it be compiled by the program on its own, but it'll also be sent to you by e-mail at the right time. With so many useful tools in its arsenal, the USU Software should become an indispensable assistant for any manager or owner.
In conclusion, I would like to say that our automated application for birds accounting not only has extensive functionality and simple configuration but also a fairly democratic price for implementation; the settlement system of the USU developers does not imply the use of subscription fees, therefore, the use of the software throughout the entire time is absolutely free.
In the USU Software, the work with birds and their keeping is carried out continuously, since you can always view the operations displayed for the day in its database. When working with tables, you can customize their parameters in your own way, by changing the number of rows and cells, delete or swap them, sort information content in columns in ascending or descending order. Thanks to the automatic creation of financial statements, you are guaranteed to prepare and submit them on time and without errors. In the accounting spreadsheets, when filling them out, it is possible to use any language available for your understanding, when purchasing an international version of computer software. For the convenience of accounting feed for their content in the application, you can create any number of warehouses.
Electronic business management in the USU Software allows you to receive the most accurate, reliable, and updated information for accounting all the time. It'll be much easier to control veterinary measures for birds if you use the task glider built into the application. The cost of the products produced at the birds' farm is calculated by the program automatically, based on the available cost data, which is very convenient for accounting. In spreadsheets, the system can contain not only information about birds, their offspring and products, but also the client base of the company. By creating a client database, the software generates personal cards for each of them, where it enters all the information available on this person. You can develop the templates that you will use to form the document flow in the organization yourself or take a sample set by the state.
The parameters of tables in the 'Modules' can only be changed by those users who have received similar powers and access from the manager. The management of the birds' farm can regulate the availability of confidential files of the electronic database, depending on the authority of a particular employee. Working in USU Software is very convenient for the joint activities of several units connected by a local network or the Internet. Thanks to the feature of backing up accounting data, including bird management spreadsheets, our program allows you to keep the information safe for a long time.