Rating:
4.9
. Number of organizations:
253

Countries:
All
Operating system:
Windows, Android, macOS
Group of programs:
USU software
Purpose:
Business automation
Accounting for clients in CRM
Copyright protects the unique methods of business automation that are used in our programs.



Copyright

We are a verified software publisher. This is displayed in the operating system when running our programs and demo-versions.



Verified publisher

We work with organizations around the world from small businesses to large ones. Our company is included in the international register of companies and has an electronic trust mark.



Sign of trust
Quick transition.
What do you want to do now?
Program screenshot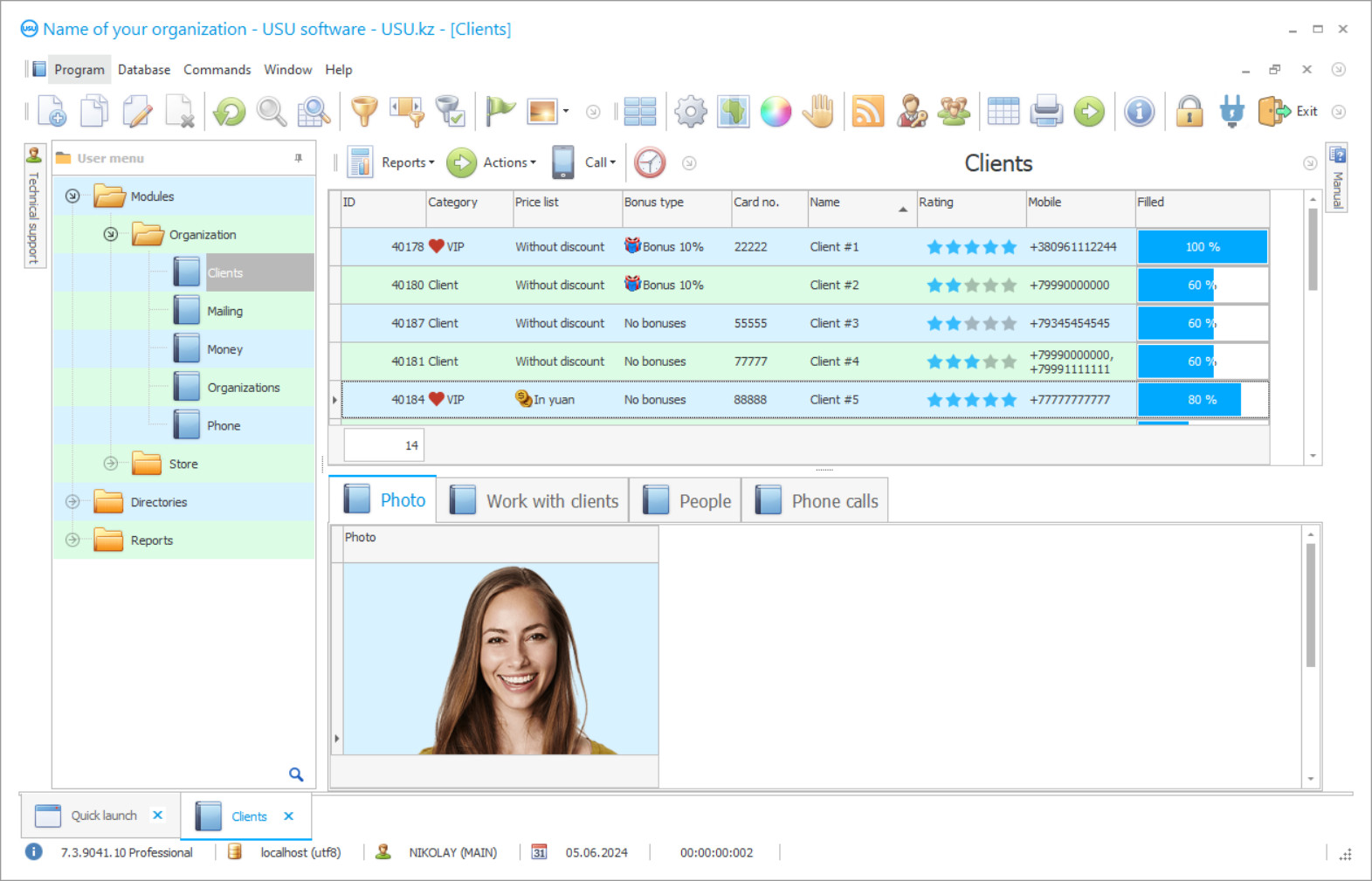 Download demo version
When starting the program, you can select the language.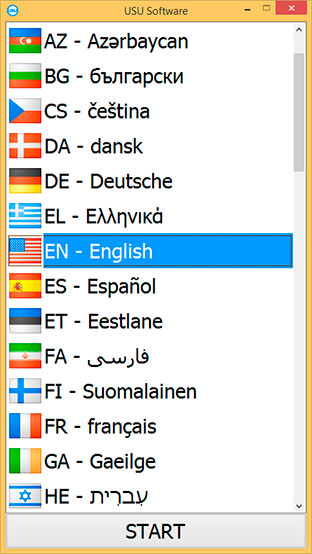 Instruction manual
Premium-class program at an affordable price
1. Compare Configurations
Compare configurations of the program

2. Choose a currency
3. Calculate the cost of the program
4. If necessary, order a virtual server rental
In order for all your employees to work in the same database, you need a local network between computers (wired or Wi-Fi). But you can also order the installation of the program in the cloud if:
You have more than one user, but there is no local network between computers.



No local area network

Some employees are required to work from home.



Work from home

You have several branches.



There are branches

You want to be in control of your business even while on vacation.



Control from vacation

It is necessary to work in the program at any time of the day.



Work at any time

You want a powerful server without the big expense.



Powerful server
Calculate the cost of a virtual server

You pay only once for the program itself. And for the cloud payment is made every month.
5. Sign contract
Send the details of the organization or just your passport to conclude an agreement. The contract is your guarantee that you will get what you need. Contract
The signed contract will need to be sent to us as a scanned copy or as a photograph. We send the original contract only to those who need a paper version.
6. Pay with a card or other method
Your card may be in a currency that is no in the list. It's not a problem. You can calculate the cost of the program in US dollars and pay in your native currency at the current rate. To pay by card, use the website or mobile application of your bank.
Bank transfer



Bank transfer

Payment by card



Payment by card

Pay via PayPal



Pay via PayPal

International transfer Western Union or any other



Western Union
Automation from our organization is a complete investment for your business!
These prices are valid for the first purchase only
We use only advanced foreign technologies, and our prices are available to everyone
Compare configurations of the program
Popular choice

Economical
Standard
Professional
Main functions of the selected program Watch the video

All videos can be viewed with subtitles in your own language

Multi-user operation mode when purchasing more than one license Watch the video
Support for different languages Watch the video
Support of hardware: barcode scanners, receipt printers, label printers Watch the video
Using modern methods of mailing: Email, SMS, Viber, voice automatic dialing Watch the video
Ability to configure automatic filling of documents in Microsoft Word format Watch the video
Possibility to customize toast notifications Watch the video
Choosing a program design Watch the video
Ability to customize data import into tables Watch the video
Copying of the current row Watch the video
Filtering data in a table Watch the video
Support for grouping mode of rows Watch the video
Assigning images for more visual presentation of information Watch the video
Augmented reality for even more visibility Watch the video
Temporarily hiding certain columns by each user for himself Watch the video
Permanently hiding specific columns or tables for all users of a specific role Watch the video
Setting rights for roles to be able to add, edit and delete information Watch the video
Selecting fields to search for Watch the video
Configuring for different roles the availability of reports and actions Watch the video
Export data from tables or reports to various formats Watch the video
Possibility to use the Data Collection Terminal Watch the video
Possibility to customize a professional backup your database Watch the video
Audit of user actions Watch the video
Back to pricing

Rent of a virtual server. Price
When do you need a cloud server?
Rent of a virtual server is available both for buyers of "Universal Accounting System" as an additional option, and as a separate service. The price does not change. You can order a cloud server rental if:
You have more than one user, but there is no local network between computers.
Some employees are required to work from home.
You have several branches.
You want to be in control of your business even while on vacation.
It is necessary to work in the program at any time of the day.
You want a powerful server without the big expense.
If you are hardware savvy
If you are hardware savvy, then you can select the required specifications for the hardware. You will immediately be calculated the price for renting a virtual server of the specified configuration.
If you don't know anything about hardware
If you are not technically savvy, then just below:
In paragraph number 1, indicate the number of people who will work in your cloud server.
Next decide what is more important to you:

If it's more important to rent the cheapest cloud server, then don't change anything else. Scroll down this page, there you will see the calculated cost for renting a server in the cloud.
If the cost is very affordable for your organization, then you can improve performance. In step #4, change the server performance to high.
Hardware configuration
JavaScript is disabled, calculation is not possible, contact the developers for a price list
Order an accounting for clients in CRM
For automation and accuracy, each user service and provisioning enterprise maintains customer records in the CRM system, because the old ways of managing and documenting data are no longer relevant. A computerized CRM program for customer accounting provides users with complete data that can be supplemented or changed at any time, to any extent. It's no secret that free CRM for customer accounting can only be in test form. If you want to save money, you can pay attention to the cost of the utility and other expenses. For example, our automated CRM program for customer accounting has a low cost and completely does not provide for a subscription fee, i.e. free, like other expenses. Due to the multifunctionality and the presence of a large selection of modules, the work of the enterprise will become not only easier, but faster, better and more efficient.
The convenient and beautiful interface of the CRM program for accounting customers in CRM also has versatility, operational business management, document management, full control over production processes, employee activities, the quality of customer processing, as well as their growth and an increase in the profit of the enterprise, for one or another period time. All transactions will be visible in the system, because they are automatically stored in a single database. It is possible to quickly obtain various information by using a contextual search engine that optimizes the working time of employees, as well as reliably and long-term saving all materials and documents, and completely free of charge. The use of templates and sample documents also provides efficiency, and automatic data entry and import provides accurate and high-quality information. Materials can be used in any format and from any kind of sources.
In CRM tables for customer accounting, you can enter different information, supplementing with attached pictures, documents, scans and invoices. Also, for greater convenience, cells can be highlighted and marked with different colors in a free form. For selected clients, mass or personal messages can be sent via SMS, MMS or e-mail. Also, you can track the status of processing applications and accepting payments, excluding debts, charging late fees or providing a discount.
The multitasking of the client accounting program in the CRM system can be described for a very long time, but it is much more productive to install a demo version and test the utility on your own business, and it's completely free. Also, you can get answers to the remaining questions from our consultants.
The utility for accounting for clients in the CRM system provides full automation and optimization of working hours.
The accuracy and quality of input, speed, is ensured by automatic data entry or import from various sources.
Support for various document formats.
Multi-user mode, provides a single access for all employees.
Mutual exchange and materials and documents support for users on the local network or via the Internet.
In a single program, an unlimited number of branches and branches can be fixed.
For clients, various information can be entered, ranging from details to attached images, payments, documents, etc.
Marking certain data and cells with different colors for greater convenience.
You can store an unlimited amount of data, given the capabilities of the operating system.
Receive materials, available quickly and without straining, through the use of a contextual search engine.
The backup copy is automatically saved on a remote server, you just need to enter the dates for its implementation.
Mass or personal mailing of messages to the client is carried out via SMS, MMS or e-mail.
Acceptance of payments, in any form, in cash and non-cash, with free acceptance of commission.
All types of foreign currency are accepted, subject to the use of a converter.
Accounting for working hours, fixes the exact amount of time worked, on the basis of which wages are made.
Accounting, control, analysis, is carried out on the basis of integration with video cameras, with additional tools and applications, with warehouse devices.
Low cost, with nice bonuses, in the form of a free monthly fee.
You can additionally develop modules, personally for your business.
Accounting in magazines and tables is carried out quickly and efficiently.
Formation of reports, taking into account which, you can see the profitability of the organization, is completely free.